harmonizes modern comfort with rugged nature
Studio Saxe celebrates the completion of Raintree House, a modern oasis in Costa Rica. The airy and sunlit House is designed for an international client seeking a sustainable lifestyle, prioritizing well-being and connection with the natural context. As they say: 'We wanted a home that felt like it had always been there, hugged by the canopy, dancing with the jungle.'
Thus, the architecture is shaped by a vision of integration with the jungle. Every existing tree on the site has been preserved, informing the boundaries of the house and framing views of the sea and sunset beyond. The architects seek to curate a series of contemplative moments and harmonize the natural roughness of the site with the comfort of a modern house.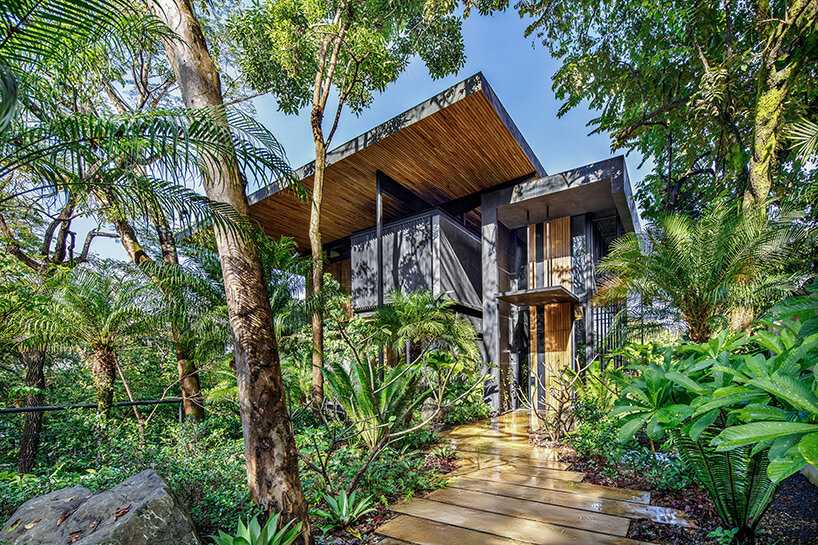 images © Kirsten Ellis | @kirstenellis
the 'rain tree house' in the jungle
The architects at Studio Saxe designed Raintree House like an exploration at the top of a clearing on top of a hill. Describing the architecture's relationship to the site, the team notes: 'We planted a strong foundation and acrobatic structure so that the rest of the house could float over the jungle without additional support.
"The main living areas as well as the master bedroom were placed on the second floor, where the experience of the jungle canopy is felt more intensely and also where the sea and sunset are captured through carefully framed views. A staircase and circulation that is neither outside nor inside encourages the inhabitants to always be connected to nature as they meander around the house.'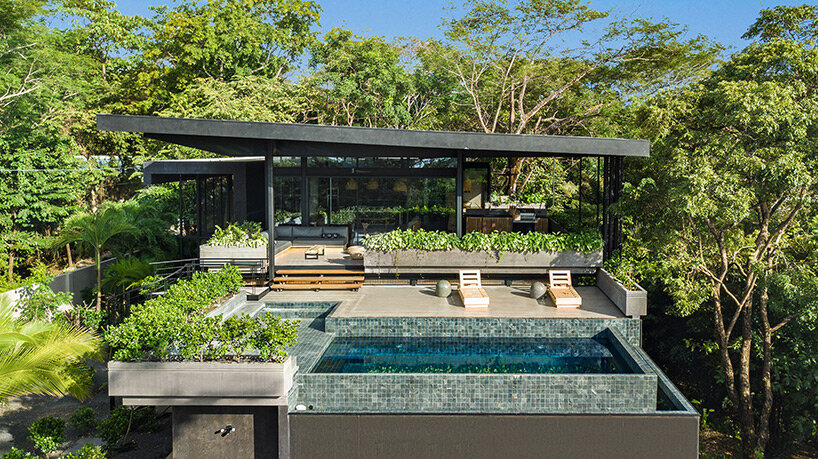 studio saxe designs a holistic environment
Studio Saxe designed both the architecture and interior of Raintree House, ensuring a holistic environment throughout. This integrated workflow allowed an accurate selection of materials at all scales for a collaboration. The palette includes burnt wood, teak, handmade hydraulic tiles, woven lamps – which together give a sense of local craftsmanship to the whole design. The architects design the home with durability in mind, as it is intended to serve not only as the customer's home, but also as a rental home.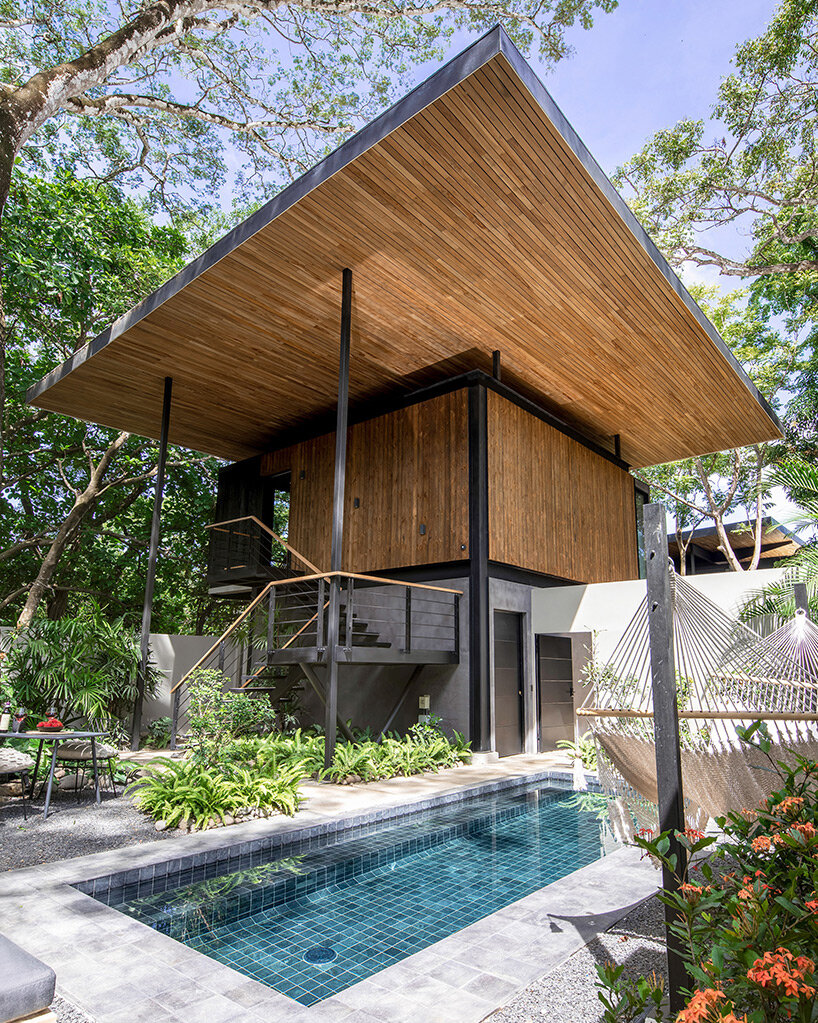 the sustainable concept
Studio Saxe elaborates on the sustainable strategies used in the design of Raintree House: 'Bioclimatic principles guided the design of the house. A very large "roof umbrella" extends very dramatically and encapsulates the entire living space, creating an ecosystem between the structure and the jungle. In tropical settings, such as this, designs must adapt to heavy rains in the green season and intense heat in the dry season. Water is captured and recycled for irrigation and reuse.
"Meanwhile, solar panels generate part of the energy for the house, and the materials are kept rough to withstand the tropical environment without constant maintenance. In general, ancient and local techniques are combined with technology to create a sustainable design that is both rooted in the past and looking to the future.'