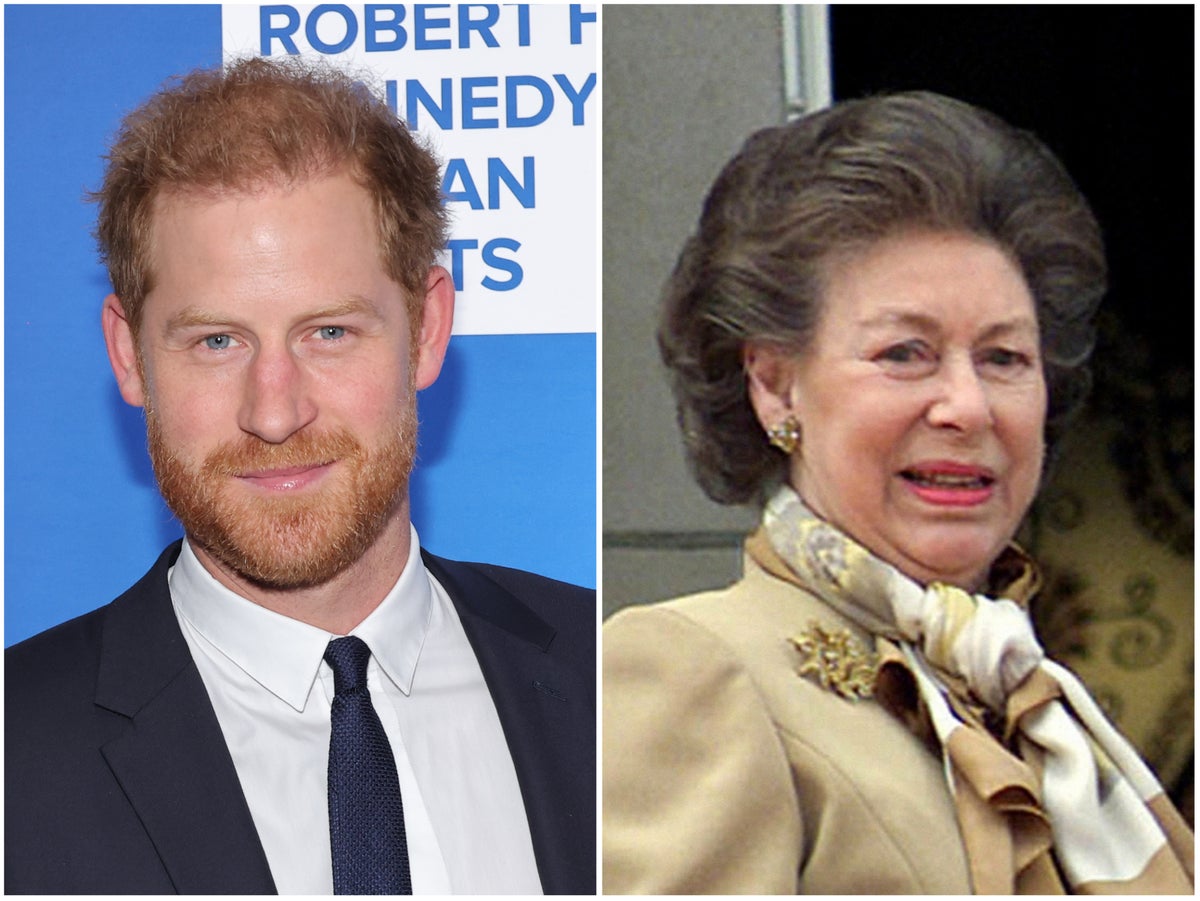 Prince Harry recalls his relationship with his late great-aunt, Princess Margaret, in his new memoir Reserve.
The Duke of Sussex's sprawling memoir detailing family feuds, youth rebellion and the inner workings of the royal family has been officially released today (January 10), after being leaked five days before.
In it, Harry discusses his relationship with his great aunt, Princess Margaret, Queen Elizabeth II's sister who died in 2002.
Prince Harry recalls his early memories of "Aunt Margo" and explains that he felt "nothing for her except a little pity and a lot of nervousness".
"She could kill a houseplant with one look," he wrote in the ghostwritten autobiography.
Describing Princess Margaret as showing "coldness" towards him, Harry went on to recall a Christmas Eve spent at Sandringham Estate, the royal family's country home, where his great-grandmother gave him an unusual present.
"Standing in front of my pile, I chose to open the smallest present first," Harry wrote. "Tagnet said, 'From Aunt Margo.'"
"I looked over and yelled, 'Thank you, Aunt Margo!'"
"I hope you enjoyed it, Harry," she reportedly replied.
"I tore off the paper," the duke described. "It was… a biro?"
"I said, 'Oh. A biro. Wow.'"
"She said, 'Yes. A biro.'
"But it wasn't just any biro, she pointed out. It had a little gummy fish wrapped around it."
"I said, 'Oh. A fishing bureau! OK.'"
"I said to myself: It's cold-blooded."
The Duke of Sussex then explained an epiphany he experienced as he got older: "It struck me that Aunt Margo and I should have been friends. We had so much in common. Two spare parts."
"Her relationship with Grandma was not an exact analogue of mine with Willy, but pretty close," he wrote, referring to his brother William, who is now the Prince of Wales. "The simmering rivalry, the intense competition (driven mainly by the older sibling), it all looked familiar."
Harry then compared his mother, Princess Diana, to Princess Margaret.
"Aunt Margo wasn't so different from mum either. Both rebels, both branded as sirens. (Pablo Picasso was among the many men obsessed with Margo).
The Duke recalls when Princess Margaret fell ill before her death in 2002, writing that "she was unable to take care of herself. After severely burning her feet in a bath, she was confined to a wheelchair and said she quickly declined."
Other places in ReserveHarry claims Prince William physically attacked him, reveals the moment he learned of his mother's death and admits to illegal drug use.
The long-awaited memoir was officially released in bookstores today (January 10).