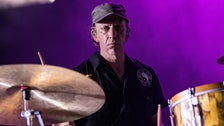 Jeremiah Green, the drummer for Grammy Award-winning rock band Modest Mouse, has cancer.
The 45-year-old's mother Carol Namatame confirmed it in a Facebook post on Christmas Day. She asked fans to "send healing vibes to my son" who is "fighting stage 4 cancer" and praised him for "hanging in there". It is still unclear what type of cancer Green has.
Modest Mouse wrapped up the 25th anniversary tour for their second album, "The Lonesome Crowded West," on Dec. 20, according to People. Online footage showed Green participating as their founding drummer as recently as December 1 during a tour date in Los Angeles.
While the band is set to tour South America next year with dates in Argentina, Chile, Colombia and Brazil in March and Mexico in April, Marco Collins — a Seattle radio personality for KEXP and a friend of Green's — confirmed on Facebook that Green won't be there.
"Just found out my friend Jeremiah Green (Modest Mouse) has pulled out of the band's tour because he is currently undergoing chemotherapy to fight Stage 4 Cancer," Collins wrote Monday. "Despite having a stage 4 diagnosis, his prognosis is good!"
Collins added that Green's oncologist was a big fan of the band, "so he's got it in his corner!" The band confirmed the news directly to fans on Instagram.
Green co-founded Modest Mouse with frontman Isaac Brock in Seattle in 1992. He has appeared on every album except "Good News for People Who Love Bad News" in 2004, when he took a long hiatus from the group – after a nervous breakdown.
"I went on anti-depressants and I got all manic and weird," Green told High Times in 2018. "I just blew up one day. I was acting really weird. I ended up in the hospital for six hours and realized pretty quickly that I wouldn't be there."
Green told the outlet that it took him "a long time" to reach out to his bandmates after that, "because I was embarrassed." He said that when he "got back to normal", he thought he had "ruined" his life and "sat around depressed for like a year" before his colleagues invited him back.
While Brock told NMW last year that Modest Mouse was working on a follow-up to their 2021 release "The Golden Casket," it currently seems unlikely that Green will contribute to the as-yet-unnamed project. As evidenced by rabid posts on social media, his fans certainly hope so.